Tiffany & Co. The 2017 Blue Book Collection: The Art Of The Wild – Exclusive Press Preview
On February 23rd, 2017
The Tiffany & Co. greater China region hosted an exclusive press preview of the
2017 Blue Book Collection – The Art of The Wild
at the
Garden Suite at The Peninsula
in Hong Kong – exhibiting the jeweller's finest pieces, capturing the unbridled beauty of nature. The collection will be officially unveiled in New York in April 2017 and Hong Kong was the only city outside of New York given the honorary privilege to preview the collection. Tiffany & Co. transformed the entire Garden Suite – recreating the beauty and allure of the wilderness, inviting the guests on an immersive journey as they were presented with an incredible assortment of masterfully created pieces.
The wild has two edges, one of merciless force and one of magical healing. It can beat the earth with a thunderous rainstorm or gracefully brush the sky with a rainbow. What is veiled as chaos is, in reality, the magnificent order of the universe. The Art of the Wild is the vision of Tiffany's talented design team, who traveled on an inspiration trip to a remote tropical island for an immersive journey through nature. The collection is composed of six themes—
Whispers of the Rain Forest; Miracle Berry; The Falls; Leaves of the Sun; Feathered Cloak; Yesterday, Today and Tomorrow
—whose intricate designs and narrative are drawn from experiencing the wonders of the wild. "We continuously push the boundaries of craftsmanship and innovation in every way. Every single year we're looking for different ways to produce pieces that are so technically complicated, they seem almost impossible, but this is where we make the impossible happen," says Melvyn Kirtley, chief gemologist and vice president of high jewelry.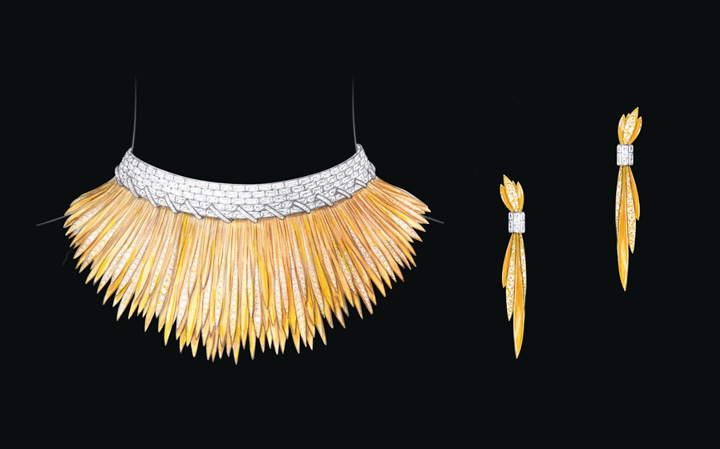 With
Whispers of the Rain Forest
, Tiffany channels the restlessness of nature and lightness of movement into something wearable. To capture this subtle sense of energy, artisans handcrafted gemstone-covered fronds—stitched together with an intricate diamond rope—that appear to whisper as they move. A diamond collier with 200 baguette diamonds set in platinum features a stitch of round pavé diamonds that connect the collar to more than 350 hand-sculpted 18k yellow gold fronds, evoking the gentle rustle of leaves. A pair of earrings displays white diamonds and 30 yellow diamonds that graduate in color from Fancy Yellow to Fancy Vivid, creating a mesmerizing ombré effect.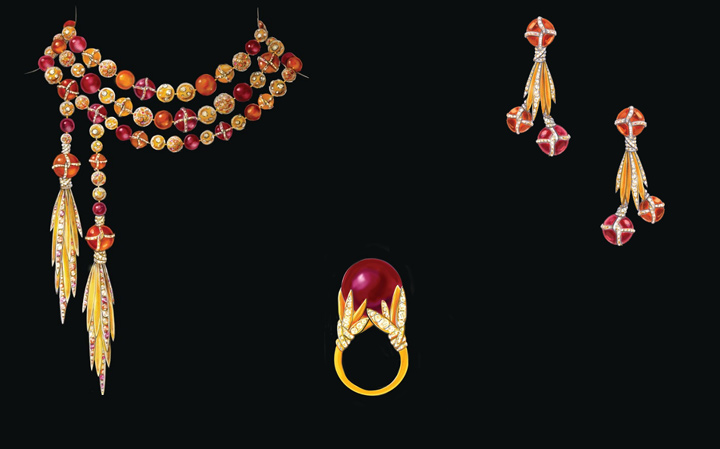 Inspired by a berry that magically transforms anything sour into sweet, the
Miracle Berry
designs are truly innovative in both color and form. In a three-layered necklace bright orange spessartites mingle with rich rubellites and gold beads wrapped in white and yellow diamonds. While the size and clarity of each gemstone is unusual and impressive, Tiffany artisans take design to a new level by weaving chains together and wrapping them in diamonds, as well as custom-cut rondelle-shaped spessartite and rubellite beads. The 18k yellow gold fronds are thread throughout the collection speckled with an alternating mix of diamonds and colored gemstones, appearing like water droplets on leaves. A noteworthy Miracle Berry cocktail ring features a 20-carat cabochon rubellite that is unusual in its size, clarity and hue—an alluring vivid red with intense saturation.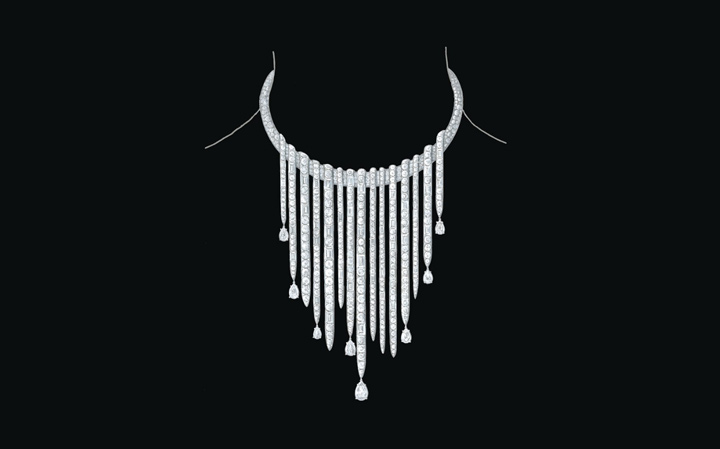 While on their expedition, the design team was inspired by nature's phenomenal power, especially in the form of waterfalls and their sheer force.
The Falls
designs evoke this movement with diamonds that appear to be coming from within and pouring down. The lack of pattern and perfection alludes to water's constant motion and the beauty found within it. The powerful force of water is illustrated with a dazzling necklace made with baguette, pear-shaped and round diamonds with strands in staggering lengths that create the scintillating effect of water cascading over the cliffs.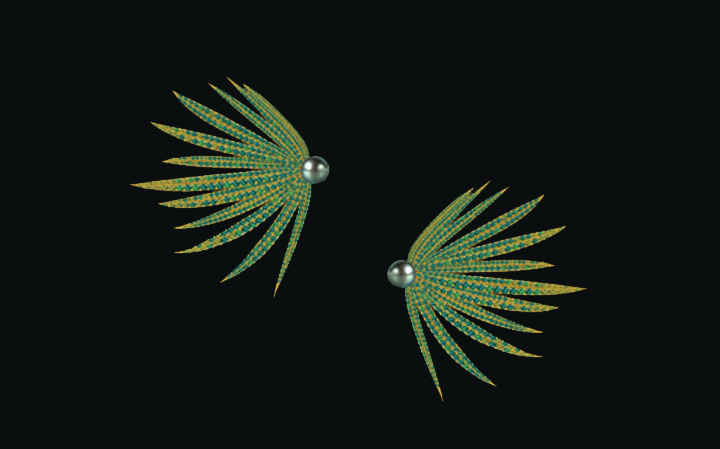 Despite nature's many forms, there are some themes—such as regeneration—that remain eternal. Tiffany wanted to capture the notion of rebirth and the energy with which leaves continuously reach to the sun for life. In nature, there's a sense of openness and density at the same time. Tiffany recreates this in the
Leaves of the Sun
designs by focusing on a lightness in the metal but with a great deal of depth in the way that the pieces are conceptualized and crafted. A dramatic pair of palm leaf earrings that unfurl over the ear feature brilliant tsavorite and yellow sapphire melee with complementary South Sea black pearls selected for their verdant green hue to create a harmonious design. Tiffany & Co. requires that all of its Tahitian pearls be completely free of blemishes, adding to the challenge of finding a complementary pair.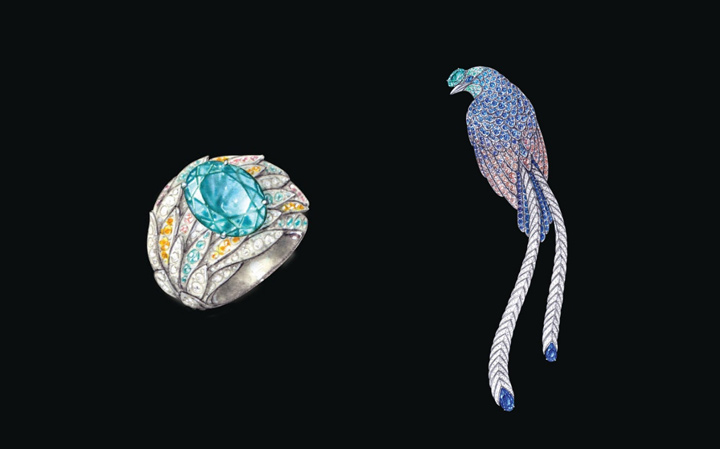 The striking colors and forms of exotic birds are brought to life in the aptly named
Feathered Cloak
designs. Gemstone-coated plumes mimic the flutter and movement of actual feathers—each piece curving and cascading to highlight the natural intricacies of these soaring creatures. A hinged cuff captures a moment of a bird resting in its wing, and gemstones of yellow sapphires, blue sapphires and spessartites set in 18k rose gold reflect the colorful iridescence of feathers. A rare and stunning 13-carat oval blue cuprian elbaite tourmaline is the centerpiece of a ring, displaying exceptional clarity for its size. An exotic bird brooch features tourmalines and sapphires set in platinum with an oval blue cuprian elbaite tourmaline at the crown and ribbon-like flexible tail with two pear-shaped sapphires at the end.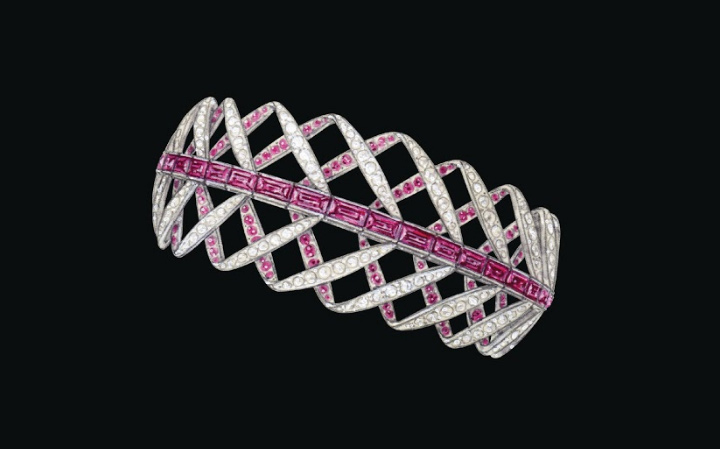 The
Yesterday, Today and Tomorrow
designs tie back to Tiffany's history of creating beautiful flowers. The collection draws inspiration from the yesterday, today and tomorrow flower—a plant that changes color over the course of three days and gently shifts from purple to lilac to white—Tiffany artfully captures this transformation with jewels embellished with ombré gemstones. While some designs in this series are a pure celebration of color, other pieces showcase the elegance of how layered petals overlap. A 54-carat cabochon rubellite is the center stone of a bracelet surrounded by a woven lattice of baguette and round pink sapphires with round white diamonds set in platinum.
#tiffanybluebook
For press enquiry, please contact
Tiffany & Co.
Lee Wolter Co. Ltd.